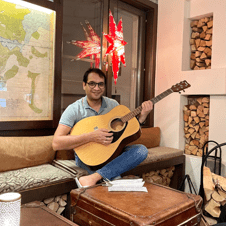 Kapil Agrawal
CFO – Finance & IT
When did you join the company?
I joined our parent company in year 2007 and moved to Sweden in year 2015

What is your current role?
I am Chief Financial Offer of company and responsible for all finance and IT matter of the company. Working on global operational efficiency, leading the process to make Business strategy & long term business planning; Enhancing business working processes and ensuring financial control and compliance in company.
Why do you enjoy working for Emotron?
Company's vision and mission inspire to me, I believe in company's strategy and ambitions plan where I felt that I am part of it.
Creativity and freedom are respected here. Open communication and helping each other are key strength of the company. 
Diverse culture, international footprint, part of CG India and sustainable product portfolio make company truly as 'Great Place to work' for me.